Working for the Randall Davey Audubon Center (RDAC) as Youth Conservation Corps (YCC) crew leads for the past six months has been a great experience. The YCC is a national program that provides grants to local governments and organizations to employ young people to work on community and conservation projects. This year, we had the amazing opportunity to work for the RDAC through such a grant, in partnership with the Santa Fe Botanical Garden and the Northern New Mexico Master Naturalist Program. Our main projects for the center included trail maintenance and erosion control, general habitat restoration, planning a new Early Education Sensory Garden and writing a grant proposal for some funds to implement it, and facilitating the Northern New Mexico Master Naturalist Program.
Thanks to our incredibly hardworking and diligent YCC crew, we made great progress on our projects at RDAC. Our crew consisted of Kara McGee-Russell, Sebastian Holtzman, Ben Johnson, and Francesca Galliano. Kara's curiosity, Sebastian's positivity, Ben's hard work, and Francesca's thoughtfulness made the season a success.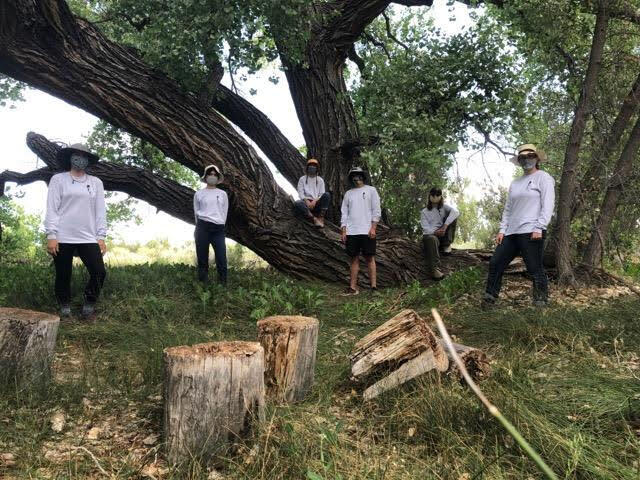 Our summer projects at the Randall Davey Audubon Center included building check dams and berms to maintain the hiking trails and control erosion, and removing debris to unclog the historic acequia that flows through the property, providing benefits to both humans and wildlife. We were so impressed by the grit displayed by our crew as we spent hours hauling wheelbarrows full of rocks in the summer sun, and everyone stayed motivated and enthusiastic the whole time! We got to know the fauna of the center as well, spending some time birding and having several encounters with a pair of young deer who often visited to nibble on landscaping and birdseed.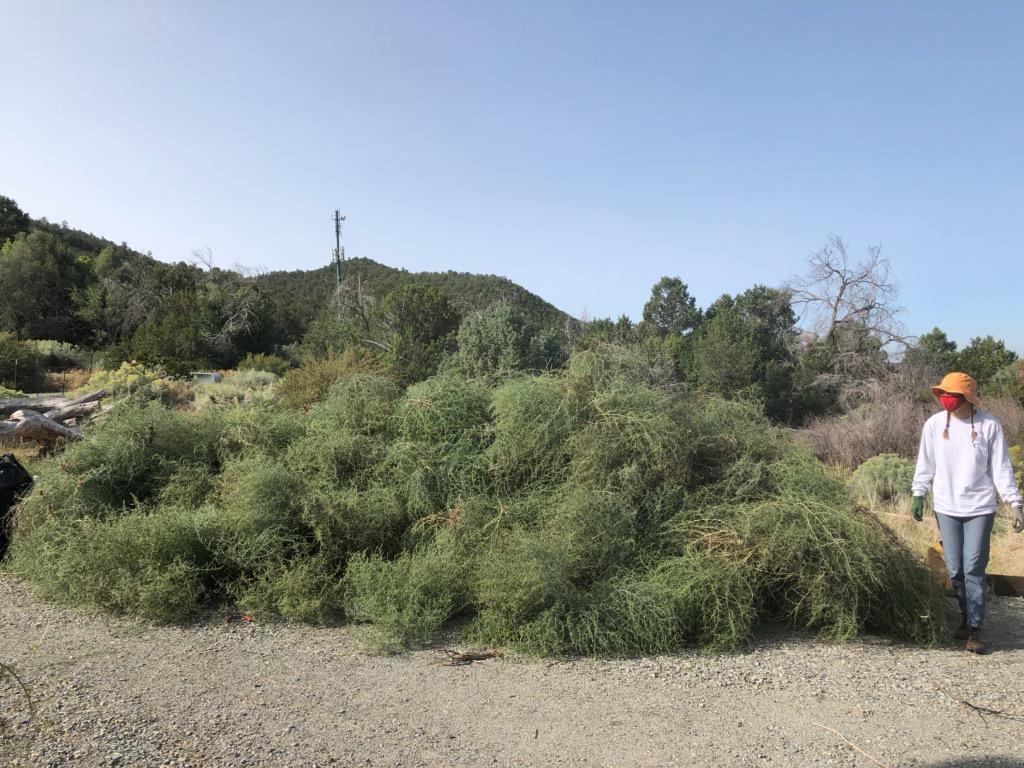 Ben and Francesca left us after August to pursue school adventures, but Kara and Sebastian kept working with us until the end of October to build on the progress we had made. We continued our work on the trails at the Audubon Center and helped out with a few other projects on the property. The ones we were most excited about were hand-tilling and planting a cover crop in the space where the future Early Education Sensory Garden will be planted, and removing a mountainous pile of invasive Russian thistle! In addition to our work, we also went on nature hikes to appreciate the gorgeous fall foliage and crisp autumn weather around the center, hung out with a very vocal Steller's Jay and a huge group of crows, and even carved pumpkins on the lawn on our last day!
Planning and facilitating the Master Naturalist Program, a project which Audubon Southwest has partnered on for several years, was a fun and valuable experience, because we got to make so many community connections. Finding and working with guest speakers for the program, we virtually met experts in environmental topics from all over New Mexico and even beyond. Working with our participants to create effective online learning spaces, we learned how to improve our own communication skills, plus a lot about the state of New Mexico from their wealth of knowledge and experience! Twenty-five participants are on track for certification pending completion of volunteer hours. It felt great to create and become part of a network of community members with diverse perspectives who care for our natural environment.
We thank everyone at the Randall Davey Audubon Center, Santa Fe Botanical Garden, and Santa Fe County for giving us such a wonderful YCC season! The skills and knowledge we gained from our experiences with you are invaluable and will serve us well going forward.