The Randall Davey Audubon Center & Sanctuary showcases a wide variety of native plants of Northern New Mexico. These plants attract over 190 species of birds ranging from common to rare. Birds depend on native plants for food, shelter, and nesting habitat. Protecting native plant habitat is vital to preserving New Mexico's rich biodiversity and aligns directly with Audubon's mission. With a shared vision and powerful partnership with the Santa Fe Master Gardener Association (SFMGA), we are making a difference on the ground and in the sky.
Since 2003, Audubon has partnered with the Santa Fe Master Gardeners (under the auspices of the New Mexico State University Extension Service Program) to create gardens at the Center & Sanctuary that demonstrate the use of native and xeric plants in order to attract and provide food and shelter for birds, bees, butterflies and insects. (Source: Chris Durlak, SFMGA)
Creating and maintaining landscapes for birds and other wildlife with native plants provides critical habitat for the wildlife, as well as enjoyment and education for thousands of visitors, including school children and Audubon Day Camp students, to the Randall Davy Audubon Center each year. The plants offer a visual beauty that complements New Mexico's rich landscape.
Did you know?
The talented and dedicated team of Master Gardeners volunteer their time through the Santa Fe Master Gardener Audubon Project to plan, plant, and maintain several of the gardens at the Randall Davey Audubon Center & Sanctuary. These gardens are dedicated to native plants, organic and sustainable gardening and were designed specifically to benefit wildlife, educate children and visitors, and provide training and continuing education for Master Gardeners and Interns. (Source: Chris Durlak, SFMGA)
Some of the native plants at the Center & Sanctuary include Beebalm (Monardo fistulosa), Desert Four O'clock (Mirbillis multiflora), and Wild Hyssop (Agastache cana). Shrubs include Fernbush (Chamaebatiaria Millefolium) and Golden Currant (Ribes auerum).
Award Winning Gardens
Thanks to our partnership with the Santa Fe Master Gardeners, the Audubon Pollinator Garden Project has been recognized with the third place award in the 2017 International Master Gardener Search for Excellence Recognition Program in the Demonstration Garden category. We are so grateful for our unique partnership and for the expertise they bring to Center and Sanctuary. Congratulations to the team!
Creating your Bird-Friendly Backyard with Native Plants
When you decide to add native plants to your yard you should first consider your ecoregion and climate zone. New Mexico has 7 ecoregions and 3 climate zones, each with their own list of natives. While many of the same species can be found across these lists, some plants are limited to a smaller range. You will want to select a wide variety of plants to provide many diverse food sources throughout the entire year. Consider adding plants that will provide food in both fall and winter, and try to add natives from all 5 of these groups:
Larval insect hosts
Nectar-producing
Berry-producing
Nut-producing
Seed-producing
Additional Resources:
Now that you've done your research, prepare to attract more birds, giving them the best chance of survival in a modern landscape of fragmented habitat and in the face of climate change.
Where birds thrive, people prosper.
Every plant helps. Together, we can rebuild a natural and sustainable landscape through the beauty of plants.
Thank you Audubon Santa Fe Master Gardener Audubon Project Leaders for your support and leadership: Joy Mandelbaum, Anne Farber, Chris Durlak, Susie Sonfleith and Marta Gyeviki.
How you can help, right now
Support Us
Where birds thrive, people prosper. Invest in the Randall Davey Audubon Center & Sanctuary today and help preserve it for future generations.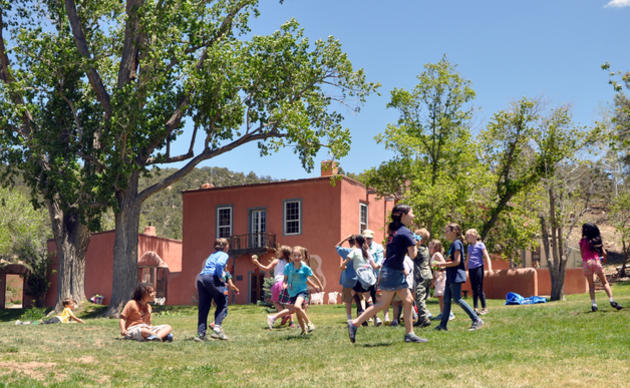 Birds at the Center
Ranging from common to rare, approximately 190 species of birds can be found in or over the various ecosystems of this sanctuary.