The arrival of fall brings cooler weather, new migratory birds, and in New Mexico, the smell of roasting green chile wafting through the air. The changing seasons also bring with it the traditional harvest of crops. But at Randall Davey Audubon Center, our volunteers are seeking a smaller and more delicate harvest.
As part of our efforts to promote Audubon's Plants for Birds conservation focus, RDAC staff and volunteers have spent the past several years collecting, cleaning, and packaging native seeds from our wildlife and pollinator gardens. These seeds are then stored, planted, and distributed through educational outreach events, as well as our on-site Seed Library. This year, high school students from The Master's Program, as well as volunteers from our Northern New Mexico Master Naturalist program, contributed thousands of seeds to the project. Native plants are an essential food source for insects and birds, creating invaluable habitats that are more biodiverse and climate resilient than exotic species. By collecting and sharing seeds, we hope to promote more bird-friendly habitat as well as deepen the ties across the community.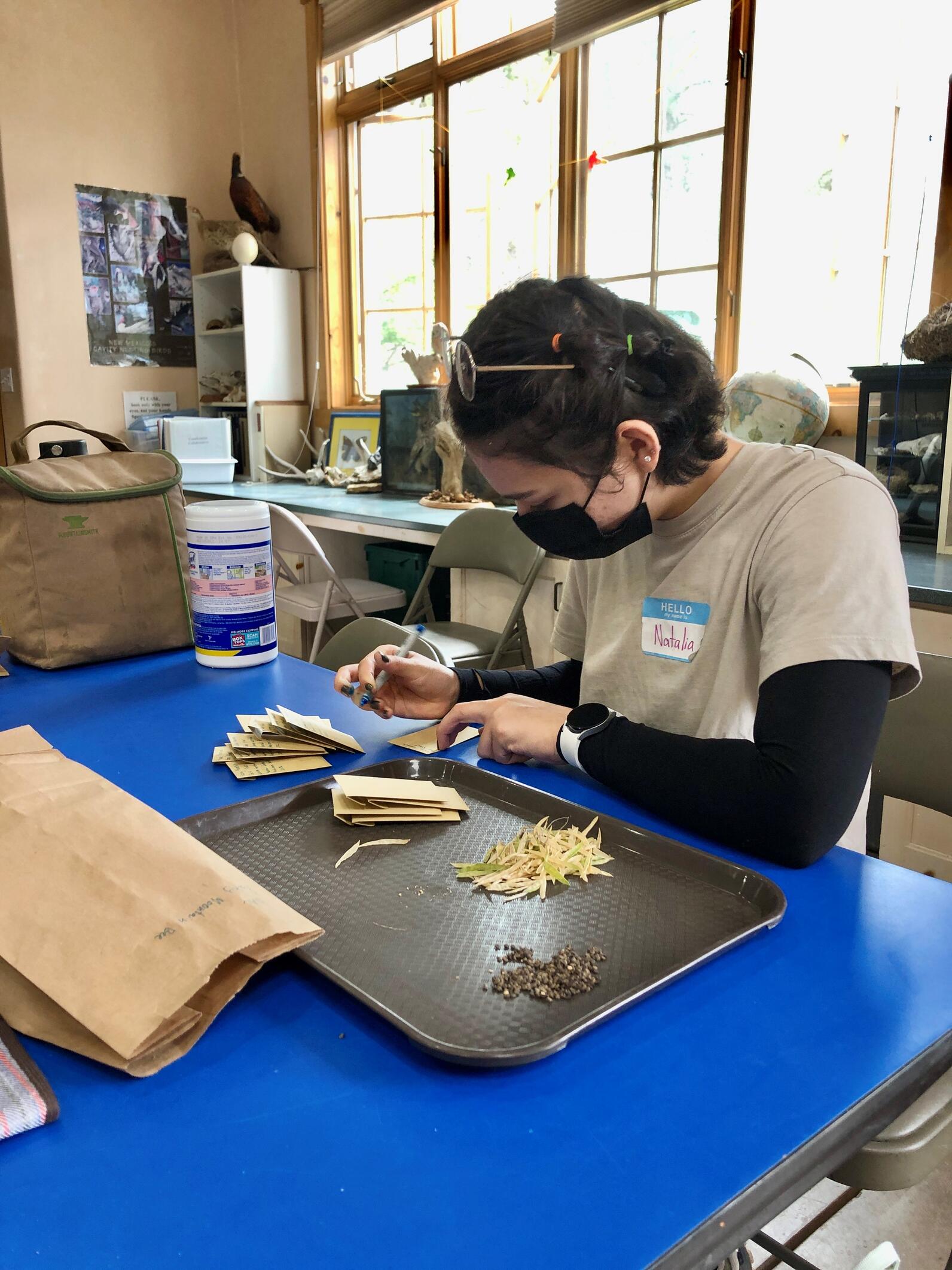 Seed collecting is the age-old process of harvesting and preserving seeds from one's garden or local environment. It is based in indigenous tradition and deeply tied to cultural preservation, agricultural practice, and community building. Tribes, Pueblos, and New Mexican farmers have been and continue to practice seed saving each year, with a specific focus on traditional crops and heritage varieties. At RDAC, we have chosen to focus on collecting seeds from native plants and flowers grown in our wildlife and pollinator gardens. The activity is both simple and also labor-intensive, depending on the plant and seed vessel. Students from The Masters Program quickly learned which wildflower species were easy to separate (such as Cow-pen Daisy and Rocky Mountain Bee Plant), while others required intense focus to extract tiny seeds from deep within the flower head (like Desert Globemallow—definitely not one of their favorites). Some species, like Narrow Leaf Milkweed, require additional cleaning to remove excess plant parts before the seeds are stored in labeled envelopes.
Thanks to the students' efforts, we collected thousands of native wildflower seeds and packaged over 500 envelopes this fall! Throughout the process, students learned to identify the different plant species found in the garden, as well as recognize the need to leave some seeds for the birds and other local wildlife. They also learned about local birds like Lesser Goldfinches, which were frequent visitors to our sunflower patch by the treehouse, and Broad-tailed Hummingbirds, which buzzed around the wildlife garden during seed collection. In addition to their contributions to Audubon's conservation work, several commented on the meditative and emotional aspects of the project. One student shared, "I really enjoyed seed collecting. It's so peaceful and I like doing things with my hands."
This fall, the Randall Davey Audubon Center also received a generous donation from Plants of the Southwest, who contributed over 100 packages of native seed, including grasses, shrubs, and trees. Volunteer and Northern New Mexico Master Naturalist, Dana Ecelberger, worked with several local nurseries and non-profit organizations to procure seed donations for the RDAC over the last two years. Dana, an avid gardener and 2021 graduate of our Master Naturalist program, was a driving force in establishing the RDAC Seed Library. Since its creation in 2021, hundreds of people have engaged with the seed library, and thousands of seeds have been shared across Santa Fe.
At its core, the idea of seed saving is hopeful. It requires patience in both the collection process, as well as awaiting the resulting growth of new plants. It represents an effort to look forward to spring and future years when gardens sprout flowers and provide habitat for birds and wildlife. Seed saving also thinks about preserving important species and varieties for future generations. In such a digital age, the practice of slowing down and handling a single seed is an incredible gift of time and energy. It's beautiful to see students and community members working together to share resources and create a better future for both birds and people.
If you'd like to participate in the RDAC project, feel free to stop by and check out the seed library adjacent to the Nature Play Area and Haiku trail. Community members are encouraged to catalogue and drop off their own seed varieties, as well as take a few packets to grow at home.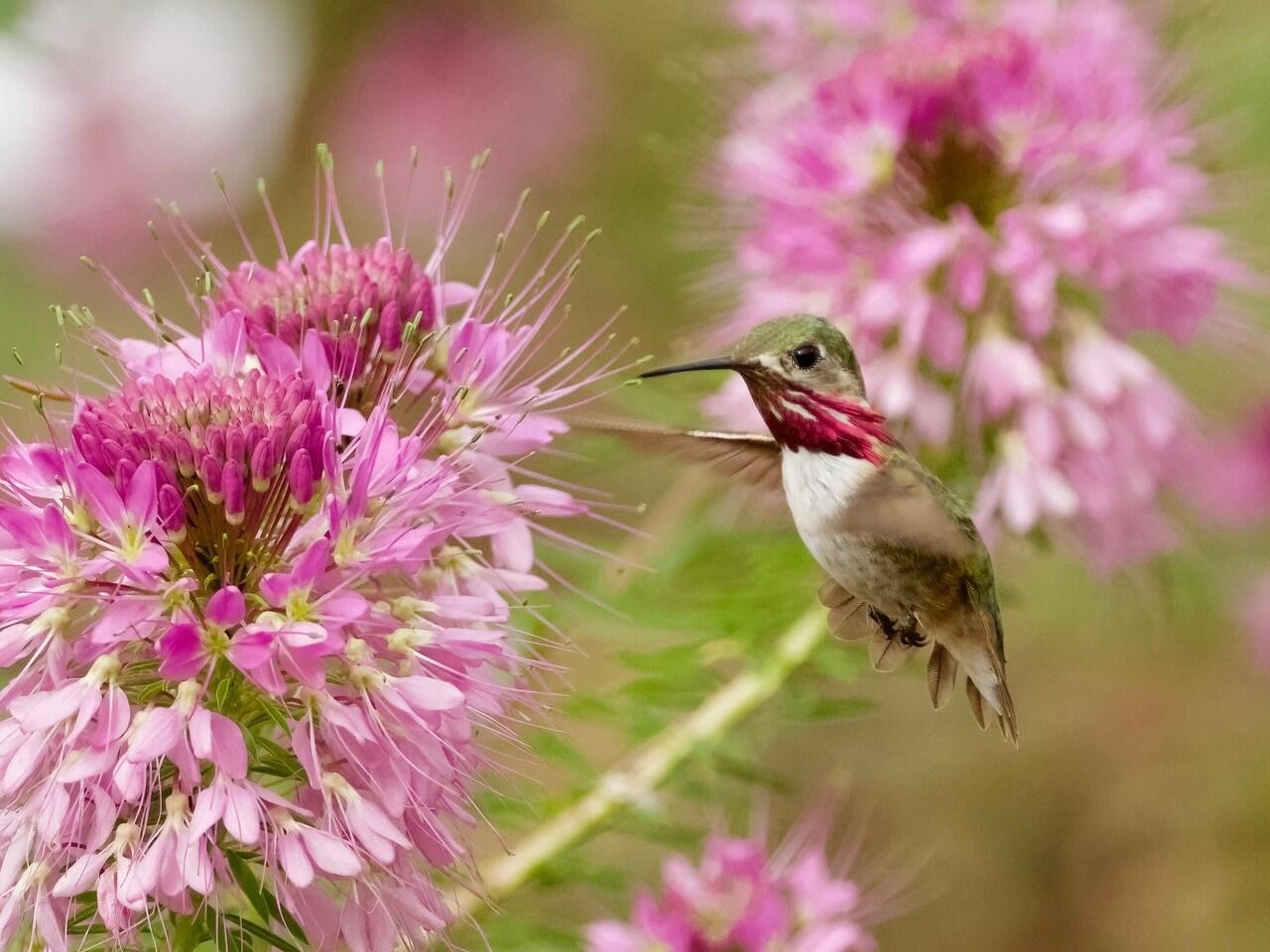 To learn more about seed saving, especially in the Phoenix area, check out our 2021 webinar: Starting from Seeds: Growing Native Plants in the Low Desert, with Danielle Carlock of the Maricopa Native Seed Library
Additional community seed libraries can be found at:
Albuquerque-Bernalillo County Public Library- South Broadway Branch
Española Healing Foods Seed Library at Española Public Library
Los Alamos Public Library and the Pajarito Environmental Education Center (PEEC)
Embudo Valley Library
And more! Check with your local library, community leaders, and gardening groups to see if you have a seed library nearby.