Come spend a few hours a week contributing to the success of our center and sanctuary. Volunteer in our nature store, on the trails, in the gardens, as a Davey House docent, bird walk leader, or education assistant!
WE NEED VOLUNTEERS at the Randall Davey Audubon Center. Want to spend a few hours a week contributing to success at an idyllic wildlife sanctuary in the foothills of the Sangre de Cristo Mountains? Here's how you can help:
NATURE STORE: Store Volunteers serve as official "ambassadors" for the Center. They answer the phone, greet visitors, answer questions about birds, trails and the Center. They ring up store sales, encourage donations, and promote Audubon membership. Volunteers work 3-hour shifts, either 10 to 1 or 1 to 4, and are needed year-round; a set schedule is preferred and training is provided.
RANDALL DAVEY HOUSE DOCENTS: If you enjoy Santa Fe art or history this may be the perfect position for you. The historic and amazing Randall Davey home and art studio are closed to the public, except at 2:00 PM Friday afternoons when our coveted docents guide guests through and tell Davey stories. Docents are needed year-round, training is provided.
GARDENS, FACILITIES, TRAILS: RDAC has buildings that need regular and periodic maintenance year-round. We also have gardens and landscaping that need maintenance, primarily during the growing season. Are you handy with tools? A good problem solver? Do you want to work outside in the garden, orchard, acequia and trails? If so, we need you!
BIRD WALK LEADERS: If you consider yourself a competent bird identifier and educator, we need you. Potential new leaders will "shadow" established Bird Walk Leaders on Saturday mornings at 8:00am.
EDUCATION: Our active education program focuses on hands-on natural history for school children. Volunteers assist our educators with programs in the local schools, at the Center, and during on-site summer camp activities.
For more information about any of these volunteer opportunities, please contact Stella Reed.
*Please note: Because we have children onsite, a routine background check is required for new volunteers.
How you can help, right now
Support Us
Where birds thrive, people prosper. Invest in the Randall Davey Audubon Center & Sanctuary today and help preserve it for future generations.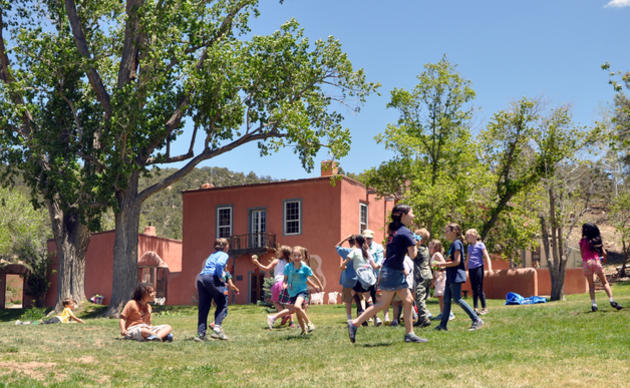 Birds at the Center
Ranging from common to rare, approximately 190 species of birds can be found in or over the various ecosystems of this sanctuary.